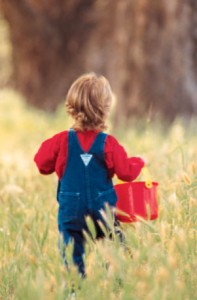 Phew, these North Carolina summers are hot! They're muggy, too, and in the evenings pesky critters want a piece of you.
So it's understandable if your child wants to spend free time indoors and understandable if you want to let them.
But in the long run, too much indoor time isn't good for your child. According to a slew of reports and research, simple unstructured time outside will help your child be healthier, better socialized, more independent, and to do better in school.
Yet, children are spending more and more time indoors and foregoing the benefits of outdoors.
A new health report published by the National Wildlife Federation (NWF) highlights key statistics behind the worrisome trends. According to surveys by researchers at the University of Michigan, children spend only four to seven minutes a day in unstructured outdoor play. A study cited in the NWF report found that, today, only a quarter of children are playing outside daily, as compared to nearly three quarters a generation ago, even in rural areas.
A Seattle Times article points out that while parents take children to plenty of organized activities, there's hardly any free time outside — "time for kids just to be kids." According to the article, playing outside with other children and, yes, without parents or coaches, "Fosters imagination and helps teach youngsters to share, cooperate, and solve problems."
An article in the UK's Guardian reaches similar conclusions: "Free and unstructured play in the outdoors boosts problem-solving skills, focus, and self-discipline. Socially, it improves cooperation, flexibility, and self-awareness. Emotional benefits include reduced aggression and increased happiness." The article cites a study published by the American Medical Association in 2005: "Children will be smarter, better able to get along with others, healthier, and happier when they have regular opportunities for free and unstructured play in the out-of-doors."
So, yes, it's hot, and humid, but it's still a beautiful world out there, full of wonder and delight. Your children might benefit from a bit of extra time outside — just doing their thing.
Additional resources