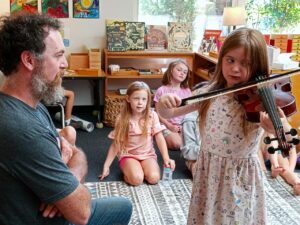 Our enhancement classes, activities, and field trips have fully resumed! Each year we focus on providing our students with educational experiences that open doors to pursue a wide variety of interests.
This year we are pleased to announce the return of our sign language program for pre-elementary ages. We are also happy to welcome back our Spanish, music, art, and physical education classes. Older students are also able to enjoy additional elective classes including mentoring, running a micro-economy, animal husbandry, community engagement, and much more.
Several extended and daily field trips have also been planned for our CH, Elementary, and MAP classrooms. Stay tuned for details from your child's classroom on what is in store for this year's adventures!