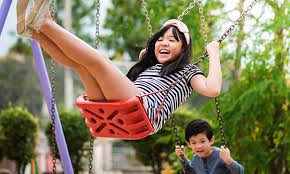 "Play activities are essential to healthy development for children and adolescents. Research shows that 75% of brain development occurs after birth.  The environment must be rich in motives which lend interest to activity and invite the child to conduct his own experiences."
~ Maria Montessori in The Absorbent Mind, p. 92.
Play Based Learning
The main goal of kindergarten, which about 75% of three- to five-year-olds attend, according to the Finnish educational expert Pasi Sahlberg, is "not to prepare children for school academically, but to make sure they are happy and responsible individuals." It is a philosophy that extends a long way up the Finnish school system, which routinely features at or near the top of world rankings for childhood education.
"Children should play in school, too," said Sahlberg. "It's important not just socially and physically, but mentally. They … concentrate better."
'Let children play': the educational message from across Europe | Children | The Guardian
Maximizing Learning
Over the past few months we have been putting an emphasis on our outdoor learning environments. When we think of the Montessori environment, we think of a well-prepared environment that maximizes both exploration and independent learning. The world of the child is full of movement, and we prepare the environment with beautiful materials that facilitate growth and foster peace while keeping up with the busy and active bodies and brains of children.
Many Montessorians have two prepared environments; one that is indoors and one that is outdoors. There are scheduled times to be in each environment, with the 3-hour morning work cycle occurring primarily indoors. However, what if there were no delineation between the two? What if children had the complete freedom to choose and move between the indoor and outdoor environment as part of their work cycle? What if, instead of two prepared environments, there became just one larger environment? I can see some of you shaking your head… What about the weather? And supervision? And what happens to work time? What about the child that never wants to come inside? At first, it seems like an obstacle that is too large to overcome. It is not enough to think outside the classroom; this needs a whole paradigm shift.
Making the Shift
Dr. Montessori described the ideal environment as having an indoor space with an adjoining garden, believing that depriving children (and also adults) of natural experiences is damaging to their souls. Richard Louv, author of Last Child in the Woods: Saving our Children from Nature-Deficit Disorder, believes that not only does nature promote a healthy lifestyle, it also boosts mental acuity and creativity while strengthening relationships.
Creating a free-flowing environment can present some challenges, but there are always solutions:
Weather — Norway places a strong emphasis on outdoor play, no matter what the weather – rain, sleet, snow, and ice. Norwegians believe that "There is no such thing as bad weather, only bad clothing." Having good outdoor clothing is just part of the prepared environment.
Staying outside — What about the child who does not want to come inside? Would you ask the same question if it were a child who refused to go outside? Ask yourself, "Is this really a bad situation?" It may be inconvenient for the adults, but rest assured, it is satisfying for the child. This is the sensitive period they are in and we must respect that. The real question becomes, are they genuinely and productively working, no matter which environment they choose?
~ Article written by Sarah Fynan